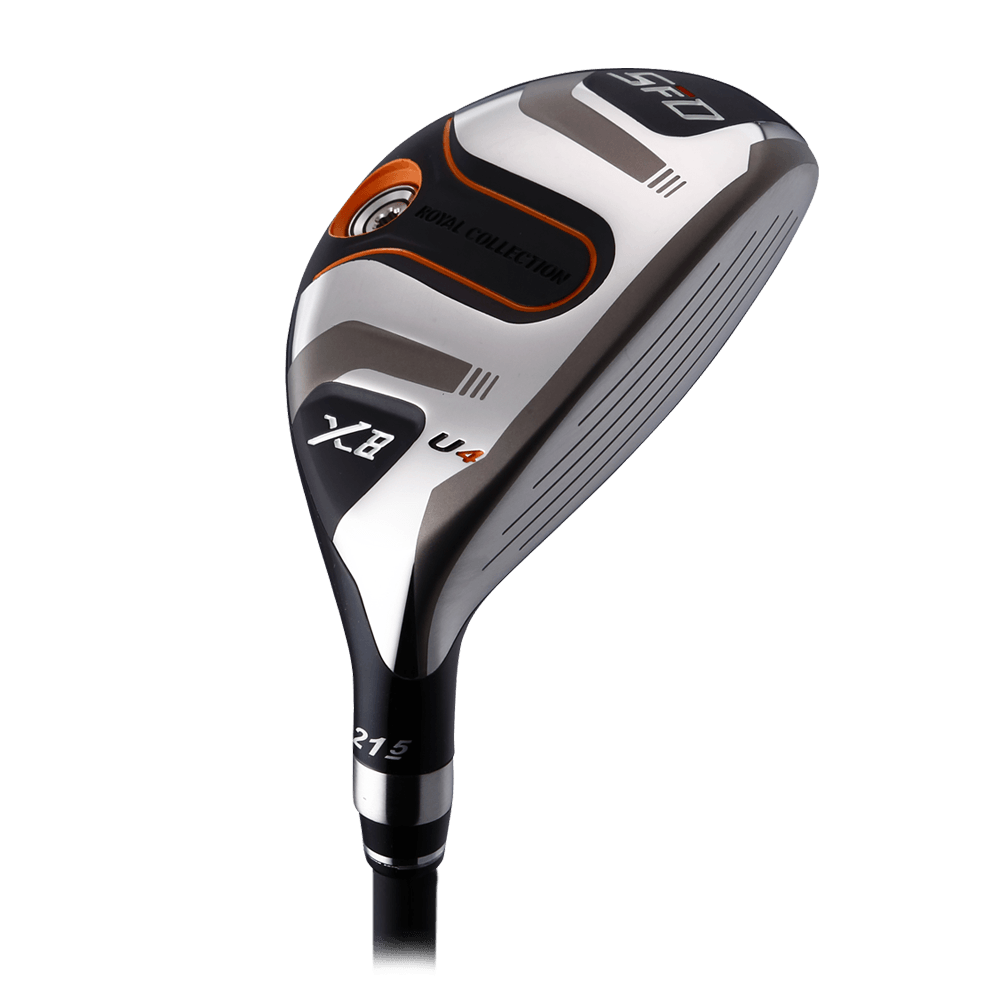 A sense of security that you can hit with iron. Aiming at the green from above with high trajectory,
improving stable flight distance and operability
Easy to address with orthodox

The round sole, which is easy to set up and has a small contact surface, is easy to swing out, and the operability is improved.

Comfortable tapping sound and playing feel

The high-strength 455 maraging face enhances the resilience performance, provides a pleasant feel and exhilarating hitting sound, and aims directly at the green with a stretchy ball.

SPEEDER × RC dedicated shaft

Injected the technical strength and know-how of Fujikura shaft 'SPEEDER' into SFD X8 series. Demonstrates excellent flight distance performance at a stretch without any smoothness and stickiness.
Material / Method / Finish
Body: Custom 450 maraging precision casting Face: custom 455 maraging rolling special processing.
Count
U3
U4
U5
U6
Loft / Lye (°)
19 / 59.5
21.5 / 60
24 / 60.5
26.5 / 61
Face angle
straight
Head weight (g)
236
240.5
245
250
Head volume (cm3)
107
104
149
101
U3 Center of gravity (mm)
U3 Height 20.0 Center of gravity depth 24.0 Center of gravity distance 33.2
Club length (inch)
LT-H5 + (UT)
40
39.5
39
38.5
SPEEDER EVO V F50
39.75
39.25
38.75
38.75
Shaft
SPEEDER RC LT-H5 + S
SPEEDER RC LT-H5+ SR
SPEEDER RC LT-H5+ R
RC95 HB
Balance
D1
D0
D0
D1
Shaft Weight
53g
51g
50g
98g
Torque (degree)
4.1
4.4
4.5
2.5
Shaft Cndition
Ahead
Ahead
Ahead
Ahead
Club Weight
About 342g
About 340g
About 339g
About 379g
Grip
With original rubber X8 RC logo (weight 50g / diameter M60 / without back line)
Specifications are as of October 2018. Please note that it is subject to change without notice.
Please note that specifications may vary slightly from actual values due to planned design values.