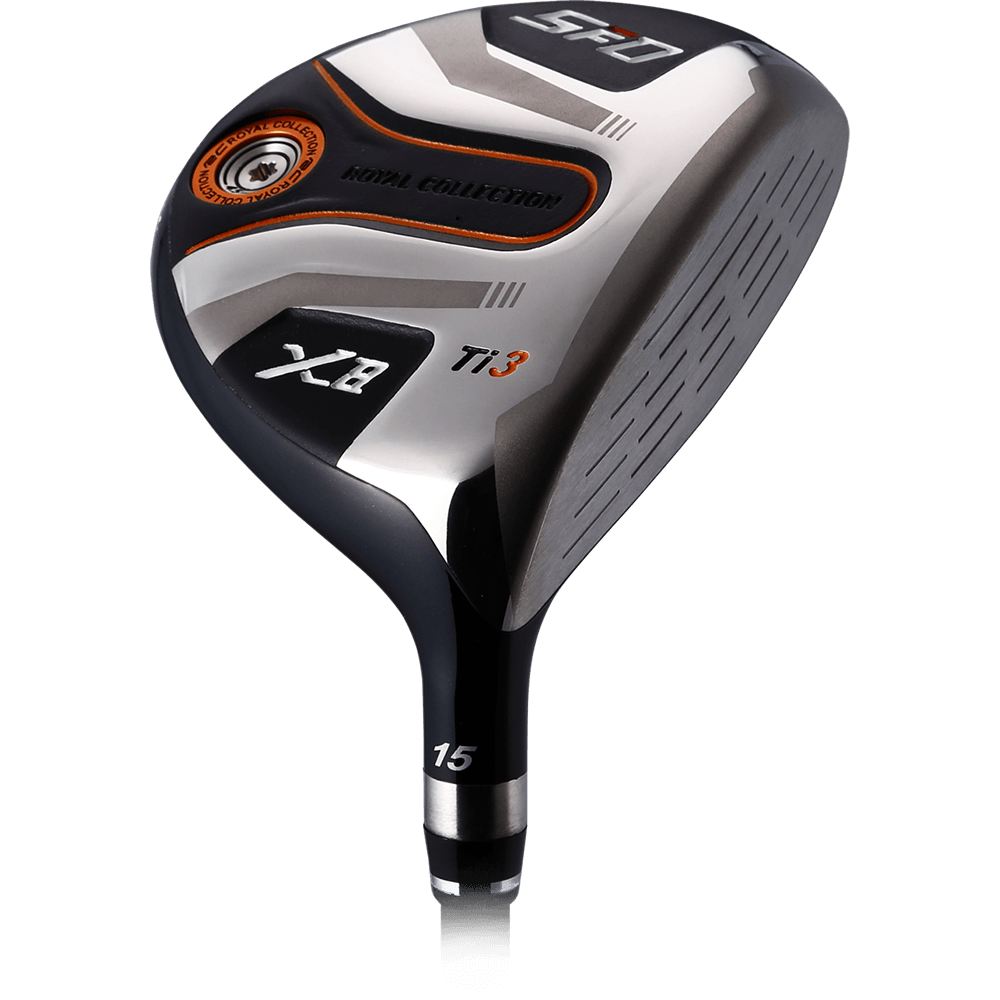 The large 27° center of gravity angle makes it easier for the face to return and captures the ball firmly to achieve a stable high trajectory.

With adjustable features that allow eight ways to adjust to the needs of the player.
Ease of hitting, inheriting tradition

Next year, the 20th anniversary of the birth of the first SFD. An all-round model that pursues an overwhelming flight distance with the ease of hitting

Initial speed up by playing refreshing titanium

Reduced flight distance loss when hitting off-center due to unique special thickness titanium face. Optimal balance design that can be aimed at a carry from a stable high trajectory.

SPEEDER × RC dedicated shaft

Injected the technical strength and know-how of Fujikura shaft 'SPEEDER' into SFD X8 series. A sense of speed is obtained with the rigidity at hand and large deflection, which leads to an increase in flight distance.
Material / Method / Finish
Body: 6AL-4V titanium precision casting Face: 6AL-4V titanium rolling special processing
Count
Ti3
Ti5
Ti7
Loft / Lye (°)
15/59
18 / 59.5
21/60
Face angle
straight
Head weight (g)
212
216
216
Head volume (cm3)
182
162
149
Ti3 center of gravity position (mm)
Ti3 height 21.5 Center of gravity depth 36.5 Center of gravity distance 36.7
Club length
(inch)

LT-5 + (FW)

43

42.5

42

SPEEDER EVO V F50

43

42.5

42
Shaft
SPEEDER RC LT-5 + S
SPEEDER RC LT-5 + SR
SPEEDER RC LT-5 + R
SPEEDER EVO V FW50S
Balance
D1
D0
D0
D1
Shaft Weight
56g
53g
51g
60.5g
Torque (degree)
4.9
5.0
5.2
4.6
Shaft Cndition
Ahead
Ahead
Ahead
Ahead
Club Weight
About 317g
About 314g
About 313g
About 321g
Grip
With original rubber X8 RC logo (weight 50g / diameter M60 / without back line)
Specifications are as of October 2018. Please note that it is subject to change without notice.
Please note that specifications may vary slightly from actual values ​​due to planned design values.